Introduction #
Neuromuscular electrical stimulation (NMES)  transmits electrical impulses through the skin by surface electrodes to superficial nerve and muscle groups to elicit muscle contraction .

Pulsed Electro-Magnetic Field (PEMF)  is cellular exercise based on the principles of pulsed electromagnetic field therapy. Exercising the cells in this way allows for an exchange of fluids. Toxins are expelled, and fresh minerals, nutrients, and water enter the cell, stimulating optimal function.   
Study overview #
A study entitled " Effect of Peripheral Pulsed Electromagnetic Stimulation Versus Neuromuscular Stimulation on Stroke-Induced Shoulder Subluxation" conducted by  Islam M. Alazab , Eman S. Fayez , Ayat Gamal El-Deen , Magdy Khalaf , Tamer Aly El-kassas6 , Shereen M. Said , Asmaa F. Abdelmonem8, Shymaa Salem , published August 2022.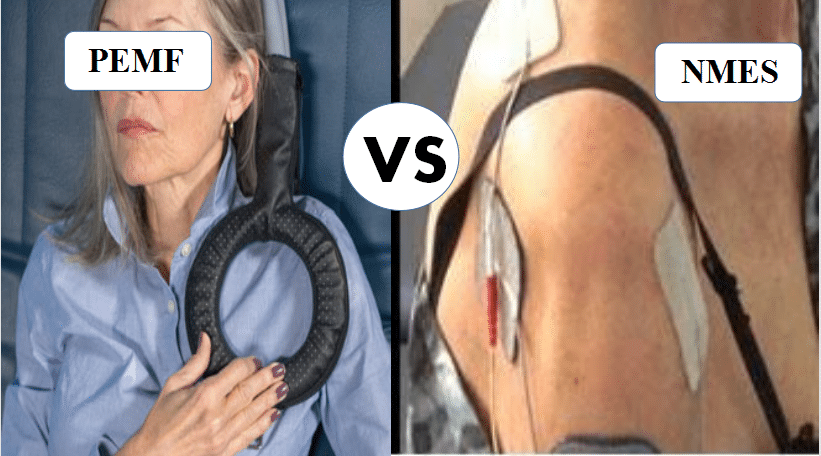 Stroke is characterized as an episode of neurological impairment brought on by focal cerebral, spinal, or retinal infarction or focal brain haemorrhage , known for its high mortality, morbidity, and lasting impairment.
This research focus on subacute stroke patients (first 2-12 weeks after stroke).
Shoulder is biggest and most intricate joint.
Changes in the biomechanical stability and veracity of the shoulder joint or the glenohumeral joint after stroke cause a significant palpable gap between the bony protrusion of the acromion process and the head of the humerus to develop, called glenohumeral subluxation (GHS) which directed inferiorly due to gravitational pull.
Normally the subacromial space between 8 and 13 mm .
Surface electromyography (sEMG) Provides reliable information about general muscle activity and simply applied by non-technical users .
Objective: #
To determine and compare the efficacy of peripheral pulsed magnetic stimulation with the efficacy of neuromuscular stimulation on shoulder subluxation because of stroke.
Subjects and Methods #
· Subjects and Methods Subjects The study conducted on sixty stroke patients suffering from shoulder subluxation (36 male and 24 female).
· The patients selected from El- Mataria Teaching Hospital, GOTHI, Cairo, EGYPT.
· The patients were included according to the following criteria: Patients were medically stable and able to understand and follow instructions, their age ranges from 50 to 60 years, not more than 3 months from stroke onset referred by neuro specialist and suffering from shoulder subluxation resulting from the stroke that measured at half to two fingerbreadths .
· Study Design and Randomization This trial is a prospective; single blind randomized controlled study with parallel group.
· Seventy stroke patients were initially screened to detect their eligibility for the study; four of them died and six of them were unable to participate due to other health problems.
· Group (GII) treated by the identical physical therapy regimen and neuromuscular electrical stimulation (10–36 pulses / sec.)
Conclusion #
Conclusion Finally, we can conclude that repetitive pulsed electromagnetic stimulation is superior on neuromuscular electrical stimulation and both are better than selected physical therapy program in treating shoulder subluxation and enhancing upper extremity functions.
Click here to download the full study
Books specialized in Stroke rehabilitation