The following study "What are the optimum training parameters of progressive resistance exercise for changes in muscle function, activity and participation in people with cerebral palsy? A systematic review and meta-regression" Published in 19 October 2022 and conducted by Theofani A.Bania, Nicholas F.Taylor, Hsiu-ChingChiu and Garyfallia Charitaki
Introduction #
Common clinical signs of cerebral palsy include muscle weakness, abnormal muscle tone, and muscle contractures. These problems can directly contribute to abnormal posture and movement and can interfere with the ability of people with cerebral palsy to participate in home and community activities.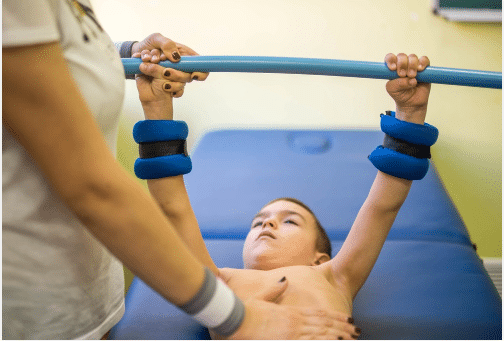 If you are interested in learning more about Cereberal palsy Rehabilittaion , you can read and Free download the following e-books:
Browse more than 40 addittional ebook about pediatric Rehabilitation
Objectives #
To explore the effect of progressive resistance exercise (PRE) on impairment, activity and participation of people with cerebral palsy (CP). Also, to determine which programme parameters provide the most beneficial effects.
Method #
This systematic review of randomised controlled trials is reported consistent with the Preferred Reporting Items for Systematic Reviews and Meta-Analyses (PRISMA). The review protocol was registered prospectively in PROSPERO (CRD42020208119).
Data sources #
Electronic databases searched from the earliest available time.
Eligibility criteria #
Randomised controlled trials (RCTs) implementing PRE as an intervention in people with cerebral palsy were included.
Studies appraisal & synthesis methods #
Methodological quality of trials was assessed with the PEDro scale. Meta-analysis and meta-regression were completed.
Discussion #
The results of this review demonstrate that progressive resistance exercise increases muscle strength in young people with cerebral palsy when compared to no intervention, with increases in strength maintained for periods of around 11 weeks after training stops. Meta-regression demonstrated no association between training intensity or volume and muscle strength. Also, it is inconclusive whether progressive resistance exercise has an effect on gross motor function and on participation of people
Conclusions #
PRE is safe and increases muscle strength in young people with CP, which is maintained after training stops. The increase in muscle strength is unrelated to the PRE intensity or dose. the Contribution of the paper in points as the following:
● PRE increases muscle strength of people with CP
● Increased muscle strength following PRE is maintained for at least 11 weeks after training stops
● It is inconclusive whether or not PRE has an effect on gross motor function or participation
● There is no association between the PRE dose parameters and effects on muscle strength
Future Research #
There is lack of evidence of the effectiveness of PRE in adults and non-ambulatory people with CP so it is recommended to search for it.
you can download the Full text , to download click here